Faith, Freedom, Fear: Rural America's Covid Vaccine Skeptics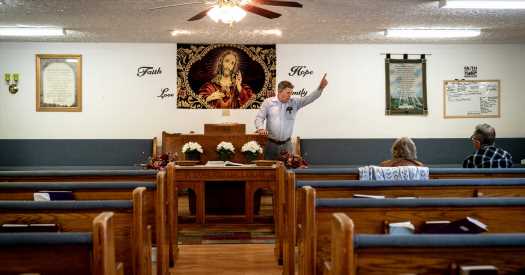 Resistance is widespread in white, Republican communities like this one in Appalachia. But it's far more complicated than just a partisan divide.
Rev. Guy Richardson leads Sunday worship at Old Fashion Gospel House in Bulls Gap, Tenn. In communities like these — mostly white, evangelical Christian and Republican — resistance to the Covid vaccine is difficult to combat.Credit…
Supported by
By Jan Hoffman
Photographs by Erin Schaff
GREENEVILLE, Tenn.— "So have you gotten the vaccine yet?"
The question, a friendly greeting to Betty Smith, the pastor's wife, lingered in the air as the four church women sat down for their regular Tuesday coffee and conversation at Ingle's Market.
Mrs. Smith hesitated, sensing a chilly blast of judgment from a never-mask, never-vax companion. She fumbled through a non-reply.
Recalling the moment later, she sighed, "We were there to get to know each other better but the first thing on the table was the Covid vaccine."
The subject makes her husband, the Rev. David Smith, even more uncomfortable. "Honestly, I wish people wouldn't ask," he said, chatting after Wednesday night prayer at Tusculum Baptist Church. "I think it's none of their business. And it's just dividing people."
As the beautiful Appalachian spring unfurls across northeastern Tennessee, the Covid-19 vaccine is tearing apart friends, families, congregations, colleagues. "It's a muddy mess," said Meredith Shrader, a physician assistant, who runs an events venue with her husband, another pastor, and who notes that the choice has become about much more than health care. "Which voice do you listen to?"
Communities like Greeneville and its surroundings — rural, overwhelmingly Republican, deeply Christian, 95 percent white — are on the radar of President Biden and American health officials, as efforts to vaccinate most of the U.S. population enters a critical phase. These are the places where polls show resistance to the vaccine is most entrenched. While campaigns aimed at convincing Black and Latino urban communities to set aside their vaccine mistrust have made striking gains, towns like these will also have to be convinced if the country is to achieve widespread immunity.
But a week here in Greene County reveals a more nuanced, layered hesitancy than surveys suggest. People say that politics isn't the leading driver of their vaccine attitudes. The most common reason for their apprehension is fear — that the vaccine was developed in haste, that long-term side effects are unknown. Their decisions are also entangled in a web of views about bodily autonomy, science and authority, plus a powerful regional, somewhat romanticized self-image: We don't like outsiders messing in our business.
According to state health department statistics, 31 percent of the vaccine-eligible population in Greene County has gotten at least one dose of a Covid vaccine, still below Tennessee overall, which has one of the lowest rates in the country, and far below the Centers for Disease Control and Prevention's national tally of 55 percent. While many older residents have been inoculated, now that eligibility is open to all adults, vaccination sites are almost desolate.
Still, conversations here show that for many people, resistance is not firm. Roiled by internet fallacies, many hunger for straightforward information from people they trust. Others have practical needs, like paid time off to recover from side effects, which the Biden administration has urged employers to offer, or the opportunity to get the shot from their own doctor.
What's also lacking is a groundswell that might encourage the hesitant to make the leap: Many people who have gotten vaccinated are remaining tight-lipped.
A matter of trust
Greene County is carpeted with hundreds of evangelical churches that range from steepled 19th-century edifices to backroads barns. People scrape by on subsistence farming, jobs in small factories, welfare checks and cash flow from retirees who are moving onto the cheap, vista-blissful land. Drug busts for heroin and methamphetamine sustain a humming cottage industry of lawyers and bail bonds services.
Covid smacked the region hard this winter. Eleven people in Jim and Rita Fletcher's extended circle died from it.
But no, the Fletchers, lifelong Greenevillians, will not get the vaccine.
What's the point, they ask? The government still wants you to wear a mask indoors. "I just don't see any benefits," said Mrs. Fletcher, as the couple waited to see their family doctor.
Source: Read Full Article