€6,500 cost per square metre of new hospital '10pc higher than average project'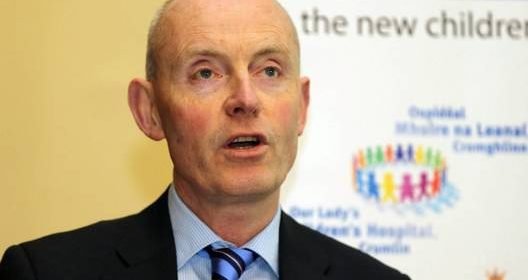 The cost of €6,500 per square metre for the new National Children's Hospital is 10pc higher than the average for similar healthcare projects.
The figure emerged in a benchmarking report commissioned by the paediatric development board, which was responsible for building the new children's hospital.
The report, carried out by AECOM consultants, was provided to the board last October as negotiations with the builder, BAM, neared conclusion and the construction price of €1.4bn was arrived at in November.
The benchmarking involved comparing the cost per square metre of the new hospital with 10 other large-scale hospital projects.
They included two in Europe, five in the United States, one in Australia, one in Asia and one in the Middle East.
They ran three scenarios including tender price, currency and locational adjustments to obtain project averages.
The costs per square metre across the 10 projects ranged from €4,000 to €8,000, with an average of €5,955 per square metre.
The report is among documents supplied by the board to the Oireachtas Health Committee, which has been conducting hearings into the escalating cost of the hospital.
The board told the Health Committee that it was worth noting that the €5,951 cost per square metre was more than twice the estimated cost of construction in 2013.
Vision
Former chairman of the paediatric board Tom Costello told the committee Dublin is an expensive place to build at present.
"But it is mainly because, and I spoke earlier about the vision, we set out to build one of the finest children's hospitals in the world," he said.
"It is also one of the biggest children's hospitals in the world. There are elements in it that cost money.
"In terms of providing a truly supportive and therapeutic environment for children and their families, all 380 rooms are private rooms en suite with space for the parents to sleep."
A separate report took a construction inflation overview in the construction industry and its specific impact on the national paediatric hospital.
The report by Linesight said the estimated compounded tender price inflation over 10 years from 2013 to completion of the new hospital in 2022 was 95pc.
This is based on actual inflation from 2013 to 2018 and predicted inflation up to 2022.
The report suggested a tender inflation allowance of €341m would be appropriate for the children's hospital.
Source: Read Full Article