Mary Black on her grandchildren: 'Music is great for children to have, it heals and consoles'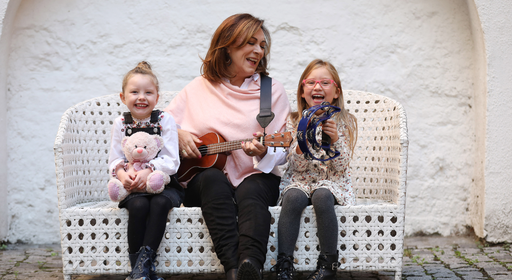 Irish folk singer Mary Black and grandparent-of-two believes music is a great healer that children can use in this "age of anxiety".
Black says her two grandchildren Bonnie and Fía are "the light of our lives", and she prefers grandparenting to parenting.
"It's hugely different, and it's so much better than having your own kids in a way, you get all the best bits," she laughs.
"We mind them for a couple of afternoons a week, so it's not like it's a chore, we don't have them all day every day which is hard work."
"You get to see all the milestones and you get a kick out of them. When you're a parent you're so busy and life races on and you can't take it in in the same way."
"Now for me it's my time with them and their time with me as well."
"It's everything about the grandparent and what they have to offer because you have a life lived and you have a good bit of wisdom there, you have a life lived."
"It's not an authoritative way of dealing with a problem that a grandchild might have. There's an ease about it, there's not just rules and regulations, it's about talking together about it, and they're the things that become very valuable."
"You learn a lot from kids these days. My two are in an Irish school and they're teaching me Irish, my Irish wouldn't be as good as I'd like. Even the four-year-old is coming home telling me new words."
In Black's household everyone has their party piece for family occasions, and Bonnie and Fía are already well acquainted with music.
"She loves singing, she is a natural performer, she just loves being in the limelight, and Bonnie has a lovely voice… Every little thing they do, you think they're great."
"There are always various opportunities where we'd have a sing song. If Danny came in he'd be playing the piano and he'd play something for them and they'd be dancing around in the living room, that's natural."
"Music was always a big thing in our house, our kids grew up with it. It goes without saying."
Music is a healer, according to Black who is an ambassador for the Specsavers Grandparent of the Year campaign, whether you're a musician or a fan.
"I see it as a performer as well. The amount of emails and letters I get from people who've had problems, whether it's that they've lost someone or they're going through an illness, music is a great healer, you can throw yourself into music and be lost, even if you're not musical or a singer, and music takes away the anxiety and it's another form of mindfulness, it gives your brain and mind a rest."
"Things can get very stressed these days with social media when kids get into the older category of teenage years. And music is great to have, it heals and it consoles."
"With all the life I've had, music is something I've always had."
"Even if it's just an appreciation of music, you don't have to be musical or a singer, you can just enjoy it. You need to nurture that. I think encouragement is important. I remember when Danny had guitar lessons and he was feeling that his older brother Conor was better than him and he was going to give it up, I just said 'just hang on for another few months and see', and he did."
"For the time that you're learning in the beginning and when it doesn't sound that nice, you have to push through that threshold and say to your child 'maybe finish out the year, and see, and we'll have a treat of sorts at the end of the year."
"I didn't get lessons in anything when I was a kid. It was just passed down from generation to generation in our case. My father always had instruments lying around the house, and we just learned, you don't need lessons to learn an instrument."
On her own children, Danny (Coronas frontman), Roisin (singer Róisín Ó), and Connor, a surveyor, Black says she's immensely proud.
"Danny's finished a huge tour of America, and he's coming back for a week and then he's doing a tour of Australia. And Roisin is singing away, she's doing very well, and Connor's a great dad with a beautiful family and he works hard."
"You just hope you can give them the tools to deal with life, especially with music, I remember telling them 'don't expect it to happen, it's not just about talent, it's about luck and hard work and the hard work eventually pays off from a success and satisfaction point of view."
Source: Read Full Article