Amanda Seyfried, Behati Prinsloo, Britney Spears and More Stars Whose Kids We Rarely See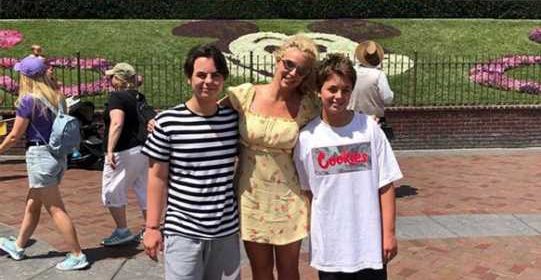 These famous moms and dads have worked hard to keep their kids out of the spotlight
1

of

19
Amanda Seyfried & Thomas Sadoski's Little Girl
Seyfried's mini-me is learning the ropes! Seyfried has never shared a photo of her 2-year-old daughter's face, but posted this picture to Instagram in August 2019, sharing a sweet mother-daughter moment when the pair went to work together.
2

of

19
Behati Prinsloo & Adam Levine's Kids: Dusty Rose and Gio Grace
When babies attack! Prinsloo posted this rare photo of both Dusty and Gio to Instagram in August 2019, getting real about motherhood in the caption. "Here's to the sleepless nights, bleeding nipples, crying, laughing, the highest of highs and lowest of lows and everything in between, i won't change a single thing, being mom to Dusty and Gio keeps me strong, motivated and empowered," the Victoria's Secret model wrote.
3

of

19
Britney Spears' Boys with Kevin Federline: Preston and Jayden
In August 2019, Spears shared a photo of her sweet family at Disneyland. In case you were wondering why we don't see Preston, 13, and Jayden, 12, too often: "My boys are older now, so they don't like their picture taken ever," Brit explained in her caption. It looks like they made an exception for their mom!
4

of

19
Blake Lively and Ryan Reynolds' Kids: James and Inez
Lively and Reynolds also keep most photos of their kids to themselves, but it was a family affair when Ryan Reynolds was given his star on the Walk of Fame.
5

of

19
James, 4, and Baby Inez, 2, are going to be joined by a baby brother or sister soon, as Lively is expecting her third child. Here's a photo of the oh-so-adorable Inez with her mom in late 2016.
6

of

19
Katie Holmes & Tom Cruise's Daughter: Suri
Suri is growing up so fast (and is her mom's twin!). She's 13 years old, which means that she is officially a teenager, but her famous parents have done a pretty great job keeping her out of the spotlight.
7

of

19
Megan Fox & Brian Austin Green's Kids: Bodhi Ransom, Noah Shannon and Journey River
Noah, 6, Bodhi, 5, and Journey, 3, don't often show up on their mom's Instagram, but when they do it's for adorable snaps like this.
8

of

19
Halle Berry's Kids: Nahla and Maceo
Berry is creative when it comes to posting photos of her children, only posting their backs or finding poses that cover their faces.
9

of

19
She said on NBC's Today, "I've fought really hard to protect their privacy, and I just want them to have their life and have it be theirs."
10

of

19
Kristen Bell & Dax Shepard's Kids: Delta and Lincoln
Bell and Shepard have always believed in keeping their children out of the public eye.
Every so often, Bell will post a photo of her kids, but either with their backs turned, like this photo of Delta …
11

of

19
Or with their faces obscured, this time with the use of an emoji.
12

of

19
However, Bell couldn't resist showing the world what a great dad her husband, Shepard, is on Father's Day.
13

of

19
So she made an exception and shared these sweet snaps.
14

of

19
We wouldn't be able to resist either! This cuteness must be shared!
15

of

19
Mindy Kaling's Daughter: Katherine
Kaling welcomed her daughter, Katherine, into the world in 2017, but does not share many photos of the 1-year-old. When she does, Katherine's face is not in the photo, as is the custom with many celebrity moms and dads.
16

of

19
Nicole Kidman and Keith Urban's Daughters: Faith Margaret and Sunday Rose
Kidman shared this photo of her daughters, Faith Margaret and Sunday Rose, giving her some serious snuggles. She captioned the sweet snap, "I am nothing without the love of my family ❤️"
17

of

19
Gwyneth Paltrow and Chris Martin's Kids: Apple and Moses
The Goop founder rarely posts photos of her kids, Apple and Moses, who are already teenagers, but she shared this photo on Mother's Day saying, "Thank you to my two beauties for the best morning, and for my entire life."
18

of

19
Apple in particular is not featured heavily on her mom's Instagram, mostly because she insists on getting some serious approval over the photos before her mom can post.
Share the Gallery
Up Next
Share the Gallery
Source: Read Full Article