Causes of Pyogenic Granuloma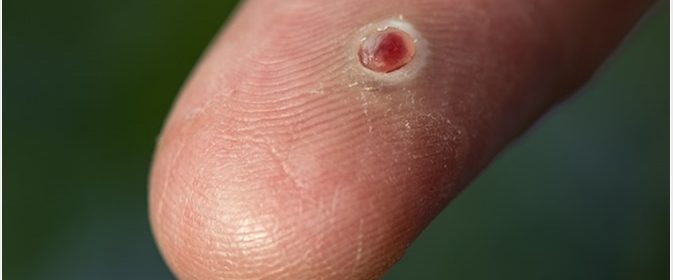 Pyogenic granuloma is a somewhat common lesion which affects the skin and oral mucous membrane. It is a soft vascular lesion or hemangioma, with an inflammatory component. It is characterized by bleeding readily in response to even minor trauma because of the numerous fragile blood vessels in it. It is classified with the reactive hyperplasias, that is, conditions which develop because of chronic recurrent injuries which result in excessive reparative processes within the traumatized tissue.
Pyogenic granuloma bloody wound on a finger – Image Credit: CLS Digital Arts / Shutterstock
Oral Pyogenic Granulomas
Oral pyogenic granulomas are most often seen in the gums, in three out of four cases. It is thought that it arises because of poor hygiene in the mouth, with resulting gingivitis. The factors that precipitate the development of these oral lesions include:
Injury to or exfoliation of a primary tooth
Chronic irritation of the gums or mucosa, including that induced by low-quality dental fillings
Chronic inflammation of the gums
Certain hormones
Erupting permanent teeth
Complete periodontitis
Trauma due to brushing
Impacted food particles
Non-Oral Pyogenic Granulomas
In most other cases as well, trauma (usually minor) or chronic irritation is thought to be at least partly an etiological factor.
Factors which may contribute to the formation of pyogenic granulomas include:
Microscopic arteriovenous malformations
Fibroblast gene modulation
Viral oncogenes
Hormonal levels
Foreign bodies in tissue
Infection within blood vessel walls
Botryomycosis
Tumor removal has also been associated with an outbreak of pyogenic granulomas, or with the development of satellite lesions, an event which also follows trauma.
Infectious Etiology
Staph and strep infections are putative infectious agents in this condition. Human herpes virus 8 has also been postulated to play a role. Other pathogens which release humoral factors such as angiopoietin-1, and angiopoietin-2, that encourage blood vessel formation, are also being studied for their part in this phenomenon. These include some Bartonella species.
Bacterial strains often observed in these lesions may not be causative but rather contaminants from the superficial surrounding skin. However, staph and strep may cause oral pyogenic granulomas because they can grow into mycoid colonies.
The pathway may operate as follows:
Minor tissue trauma allows nonspecific bacterial invasion
Reactive hyperplasia of vascular connective tissue occurs in response to such low-virulence infections because of the relatively high concentration of vascular factor stimulators in comparatively ischemic tissue (due to tissue edema and other inflammatory changes). As the newly formed cells mature and differentiate, the cells stop growing as they become separated by stroma, and as stimulator molecule levels drop. Destruction of tissue is thus hardly seen in such a situation, but vascular proliferation is abundant and long-standing.
Secondary contamination of the surface of the pyogenic granuloma may occur, leading to ulceration, infection, and a crusted appearance due to fibrin coagulation. Pus formation is almost never seen with this lesion.
Reactive Hyperplasia
Following trauma, reparative processes begin in the injured tissue, of which the fundamental step is granulation. This term applies to the formation of friable vascular tissue rich in inflammatory cells, which migrate into the injured area, proliferate, and attract endothelial cells, fibroblasts, and extracellular matrix. Cytokines such as heparin-binding bFGF (basic fibroblast growth factor), an angiogenic protein and fibroblast mitogen, are released from the macrophages and mast cells at the site of the lesion, resulting in exuberant angiogenesis and neovascularization. This is supported by the pronounced capillary component of these growths.
Other cytokines contributing to angiogenesis coupled with a powerful chronic inflammatory reaction include VEGF (vascular endothelial growth factor), as well as growth inhibitors like angiostatin and TSP-1. Angiopoietin-1 and 2, ephrin B2 and B4, decorin, and connective tissue growth factors, are all implicated in the development of pyogenic granulomas.
Hormones in Pyogenic Granuloma Growth
The so-called 'pregnancy tumor' or epulis is histologically indistinguishable from the pyogenc granuloma of the gum occurring in pregnancy. Again, gingival proliferation occurs during pregnancy and atrophy during menopause, indicating that the gum is sensitive to female hormones. Pyogenic granulomas of the gingiva occur in up to 5 percent of all pregnancies.
The marked increase in the levels of estrogen and progesterone in pregnancy modulates the endothelium of the vessels producing this lesion. It also inhibits inflammatory cell migration, preventing active inflammation but promoting chronic reactions, which predispose to the development of exuberant granulation. However, a telling argument against this hypothesis is the absence of any gender predilection for this tumor.
Medications
Some drugs such as oral contraceptives, systemic retinoids and protease inhibitors sometimes precipitate the development of multiple pyogenic granulomas, though the mechanism is not yet clear.
References
https://www.ncbi.nlm.nih.gov/pmc/articles/PMC3183723/
https://www.ncbi.nlm.nih.gov/pmc/articles/PMC3303528/
http://www.dermnetnz.org/topics/pyogenic-granuloma/
Further Reading
All Pyogenic Granuloma Content
Pyogenic Granuloma / Capillary Hemangioma
Treating Pyogenic Granuloma
Symptoms of Pyogenic Granuloma
Last Updated: Feb 27, 2019
Written by
Dr. Liji Thomas
Dr. Liji Thomas is an OB-GYN, who graduated from the Government Medical College, University of Calicut, Kerala, in 2001. Liji practiced as a full-time consultant in obstetrics/gynecology in a private hospital for a few years following her graduation. She has counseled hundreds of patients facing issues from pregnancy-related problems and infertility, and has been in charge of over 2,000 deliveries, striving always to achieve a normal delivery rather than operative.
Source: Read Full Article