To Speed Vaccination, Some Call for Delaying Second Shots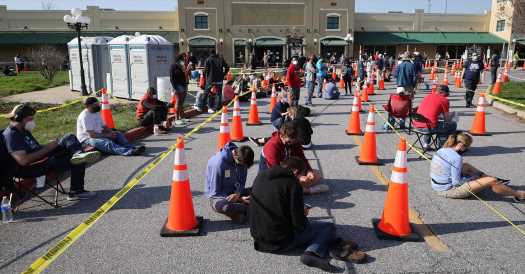 Stretching the time between the first and second doses would greatly accelerate the rate at which people get at least partial protection. But some experts fear it could also lead to new variants.
By Carl Zimmer
The prospect of a fourth wave of the coronavirus, with new cases climbing sharply in the Upper Midwest, has reignited a debate among vaccine experts over how long to wait between the first and second doses. Extending that period would swiftly increase the number of people with the partial protection of a single shot, but some experts fear it could also give rise to dangerous new variants.
In the United States, two-dose vaccines are spaced three to four weeks apart, matching what was tested in clinical trials. But in Britain, health authorities have delayed doses by up to 12 weeks in order to reach more people more quickly. And in Canada, which has precious few vaccines to go around, a government advisory committee recommended on Wednesday that second doses be delayed even longer, up to four months.
Some health experts think the United States should follow suit. Dr. Ezekiel J. Emanuel, a co-director of the Healthcare Transformation Institute at the University of Pennsylvania, has proposed that for the next few weeks, all U.S. vaccines should go to people receiving their first dose.
"That should be enough to quell the fourth surge, especially in places like Michigan, like Minnesota," he said in an interview. Dr. Emanuel and his colleagues published the proposal in an op-ed on Thursday in USA Today.
But opponents, including health advisers to the Biden administration, argue that delaying doses is a bad idea. They warn it will leave the country vulnerable to variants — those already circulating, as well as new ones that could evolve inside the bodies of partially vaccinated people who are not able to swiftly fight off an infection.
"It's a very dangerous proposal to leave the second dose to a later date," said Dr. Luciana Borio, the former acting chief scientist of the Food and Drug Administration. Dr. Anthony S. Fauci, the nation's top infectious-disease expert, agreed. "Let's go with what we know is the optimal degree of protection," he said.
The seeds of the debate were planted in December, when clinical trials gave scientists their first good look at how well the vaccines worked. In the clinical trial for the Pfizer-BioNTech vaccines, for example, volunteers enjoyed robust protection from Covid-19 two weeks after the second dose. But just 10 days after the first dose, researchers could see that the volunteers were getting sick less often than those who got the placebo.
Source: Read Full Article