Pharmacologic Treatment of IBS: AGA Clinical Practice Guidelines

The American Gastroenterological Association has issued new guidelines for the medical treatment of irritable bowel syndrome (IBS).
The guidelines, which are separated into one publication for IBS with constipation (IBS-C) and another for IBS with diarrhea (IBS-D), are the first to advise clinicians in the usage of new, old, and over-the-counter drugs for IBS, according to a press release from the AGA.
"With more treatments available, physicians can tailor a personalized approach based on the symptoms a patient with IBS is experiencing," AGA said.
Published simultaneously in Gastroenterology, the two guidelines describe a shared rationale for their creation, noting how the treatment landscape has changed since the AGA last issued IBS guidelines in 2014.
"New pharmacological treatments have become available and new evidence has accumulated about established treatments," both guidelines stated. "The purpose of these guidelines is to provide evidence-based recommendations for the pharmacologic management" of individuals with IBS "based on a systematic and comprehensive synthesis of the literature."
IBS-C
In the IBS-C guidelines, co–first authors Lin Chang, MD, AGAF, of the University of Los Angeles, and Shahnaz Sultan, MD, MHSc, AGAF, of the Minneapolis Veterans Affairs Healthcare System, noted that IBS-C accounts for "more than a third of IBS cases," with patients frequently reporting "feeling self-conscious, avoiding sex, difficulty concentrating, [and] not feeling able to reach one's full potential."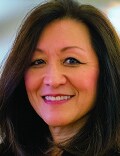 Dr Lin Chang
They offered nine pharmacologic recommendations, eight of which are conditional, with certainty in evidence ranging from low to high.
The only strong recommendation with a high certainty in evidence is for linaclotide.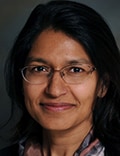 Dr Shahnaz Sultan
"Across four RCTs [randomized controlled trials], linaclotide improved global assessment of IBS-C symptoms (FDA responder), abdominal pain, complete spontaneous bowel movement response, as well as adequate global response," Chang and colleagues wrote.
Conditional recommendations with moderate certainty in evidence are provided for tenapanor, plecanatide, tegaserod, and lubiprostone. Recommendations for polyethylene glycol laxatives, tricyclic antidepressants and antispasmodics are conditional and based on low-certainty evidence, as well as a conditional recommendation against selective serotonin reuptake inhibitors, also based on low-certainty evidence.
IBS-D
The IBS-D guidelines, led by co–first authors Anthony Lembo, MD, AGAF, of Beth Israel Deaconess Medical Center, Boston, and Sultan, includes eight conditional recommendations with certainty in evidence ranging from very low to moderate.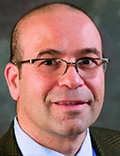 Dr Anthony Lembo
Drugs recommended based on moderate-certainty evidence include eluxadoline, alosetron, and rifaximin, with the added note that patients who respond to rifaximin but have recurrence should be treated again with rifaximin. Low-certainty evidence supported recommendations for tricyclic antidepressants, and antispasmodics. Very low–certainty evidence stands behind a recommendation for loperamide. Again, the panel made a conditional recommendation against SSRIs, also based on low-certainty evidence.
Shared Decision-Making
Both publications concluded with similar statements about the importance of shared decision-making, plus a practical mindset, in management of IBS.
"Acknowledging that multimodal treatments that include dietary and behavioral approaches in conjunction with drug therapy may provide maximal benefits and that treatment choices may be influenced by patient preferences, practitioners should engage in shared decision-making with patients when choosing the best therapy," Lembo and colleagues wrote. "The importance of the patient-physician relationship is paramount in caring for individuals with IBS, and understanding patient preferences (for side-effect tolerability as well as cost) is valuable in choosing the right therapy."
Both guidelines noted that some newer drugs for IBS have no generic alternative, and preauthorization may be required. Payer approval may depend on previous treatment failure with generic alternatives, they added.
The guidelines were commissioned and funded by the AGA Institute. The authors disclosed relationships with Ardelyx, Immunic, Protagonist, and others.
This article originally appeared on GI & Hepatology News.
Source: Read Full Article