People's willingness to pay for homecare under Government's proposed statutory scheme highlighted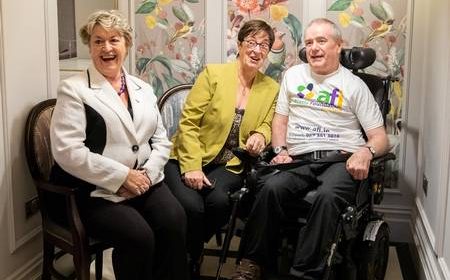 People under 65 would be prepared to pay an average of €37 a week for homecare under the Government's proposed statutory scheme, a new survey revealed today.
Those over 65 would pay more and would be agreeable to a co-payment of €40.
The survey was carried out by Home and Community Care Ireland (HCCI) representing private providers, many of which are contracted by the HSE to deliver the service. They delivered the findings at a conference today.
READ MORE: 724 medically fit patients 'trapped' in hospitals as fears grow for flu season
One speaker at the conference told about how home care had allowed him to live "a free and independent lifestyle".
Redmond O'Hanlon (64) – who lives with Friedrich's Ataxia and is a wheelchair user – said he has completed a parachute jump each year for the past five years in aid of Ataxia Foundation Ireland.
"It is very important to have good mental health and home care means I'm not stressed by the fear of being in a nursing home," he said.
"I'm able to live in my own home as I've had carers from Home Instead for more than 10 years who get me out of bed, wash and feed me every morning.
" I have a wonderful network of close friends and family who take turns to cook lunch for me each day. Every evening another carer gives me some supper and helps me to bed.
"During the day I live a free and independent life for 12 hours; I go to football matches and concerts and enjoy the cinema. Home care enables me to live a free and independent lifestyle which means everything to me."
READ MORE: Donohoe's plan to buy family vote in Budget
The Government has promised a statutory homecare scheme by 2021 and a co-payment is likely.
Homecare provided by the HSE is free and not income-tested, but there is a waiting list of around 7,000 for the service.
The HCCI found 70pc of pensioners said being able to stay in their own home in later life would give them independence.
Some 71pc agree it would mean they would be more comfortable, while 70pc believe they would continue to enjoy their freedom.
READ MORE: HSE outsources 'over half of homecare services' despite private providers being 'twice the price'
Joseph Musgrave, chief executive officer of HCCI, said: "Home care in Ireland is at a critical inflection point. We welcome the Government's commitment, and in particular Minister Jim Daly's dedication, to introducing a statutory home care scheme by 2021, a development that will place the service on a legislative setting for the first time.
"Resolving Ireland's home care challenge will require a co-ordinated, whole-of-government response and engagement with stakeholders."
He said the home care service in Ireland is under unprecedented pressure; as of June 2019, 7,217 people are on the waiting list for home care.
With one of the fastest-growing and ageing populations in the EU this demand is projected to continue growing by 120pc between 2016 and 2031.
Accessing support in a person's own home – a safe harbour from the burdens of everyday life – should not itself become a burden.
The benefits include improved quality of care, a more efficient and fulfilled workforce, and significant cost-savings to more expensive acute and residential care settings."
 "HCCI is asking that the Government start to implement the principles of Sláintecare in Budget 2020 – the most vulnerable people of Ireland should not have to wait until 2021 to see improved outcomes within the home care sector."
READ MORE: Homecare support delivered to fewer people than was promised
Source: Read Full Article