I was in fear of losing my life Friends star Matthew Perrys turbulent health history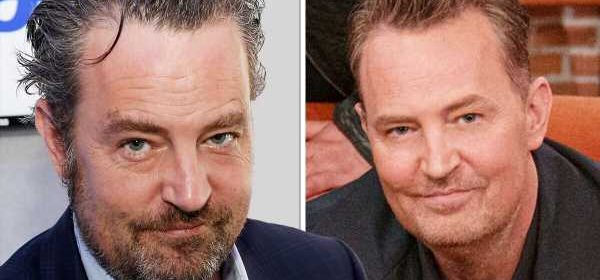 Matt LeBlanc and Matthew Perry speak to Ross Mathews in 2002
We use your sign-up to provide content in ways you've consented to and to improve our understanding of you. This may include adverts from us and 3rd parties based on our understanding. You can unsubscribe at any time. More info
"So much has been written about me in the past. I thought it was time people heard from me," Perry wrote as he teased his new memoir via Instagram. Titled Friends, Lovers and the Big Terrible Thing, the star went on to say that the book addresses the highs and lows of his career, even the times when it looked like he wouldn't live to see the next day. This comes soon after the Friends reunion special, when fans commented on the "heartbreaking" appearance and slurred speech of Perry, which was later attributed to emergency dental work.
Addiction
Perry has battled with addiction since he was in his 20s, not long after he joined the cast of Friends, playing Chandler Bing in 1994.
Just three years into the hugely popular sitcom, the star found himself depending on Vicodin (hydrocodone/acetaminophen) after he was first prescribed painkillers after a jet ski incident. "It wasn't my intention to have a problem with it," he shared back in 2002. "But from the start I liked how it made me feel, and I wanted to get more."
In 1997, Perry then checked himself into rehab, something he described as "a really hard thing to do". He added: "You can't have a drug problem for 30 years and then expect to have it solved in 28 days."
This struggle to overcome addiction reigned true, as after coming out of rehab, Perry was only about to "stay sober for a brief period."
During this stage, fans of the hit show also started to notice changes in Perry's appearance, when he suddenly lost 20 pounds (over nine kilograms). "I was out of control and very unhealthy," before jokingly adding, "I returned to my original birth weight."
DON'T MISS: 'It's a terrible death' Risk factors of the 'horrible' disease that killed Paul Newman
Pancreatitis
In addition to his drug addiction, Perry was hospitalised for alcohol-induced pancreatitis back in 2000, evidence that he was also suffering from alcohol abuse.
"I had this odd rule that I would never drink on a set," the actor said. "But I went to work in extreme cases of hangover. It's so horrible to feel that way and have to work and be funny on top of that."
This dependence on alcohol is reported to have developed alongside his drug dependence and in the turn of the millennium he was drinking a litre of vodka a day in between filming for both Friends and Serving Sara.
"I was sleepy and shaking at work," Perry added, with Friends producer Marta Kauffman telling press at the time that "it was terrifying, watching someone you care about in so much pain."
DrinkAware explains that acute pancreatitis is thought to be caused by drinking alcohol through the alcohol molecules interfering with the cells of the pancreas, stopping them working properly. Although more research is needed to establish a link more clearly, it is known that the more alcohol you drink, either regularly or during a binge session, the greater your risk of developing acute pancreatitis, often recurrently.
Overtime, acute pancreatitis can lead to chronic pancreatitis as damage to the organ becomes permanent. Despite the slight differences in both acute and chronic pancreatitis, both have similar symptoms.
These can include:
Suddenly getting severe pain in the centre of your tummy (abdomen)
Feeling or being sick
A high temperature of 38C or more (fever).
After recovering from pancreatitis, Perry made a desperate plea to friends and family to help him overcome his health struggles. Recalling a moment where he called his parents in 2001, Perry shared: "I was in fear of losing my life. There's a moment of clarity where you have to prioritise your life. I listened to it."
Despite Friends still being in production at the time, Perry was driven to another rehabilitation facility where he spent the next two and a half months. Reflecting on the difficult time in his life, Perry has said that he remains "grateful" for how bad his addictions got. He added that the experience showed him "that a happy life is possible without alcohol or drugs." And so his journey to sobriety began.
Armed with experience and knowledge provided by rehab, Perry aimed to make a difference in the lives of others like him who were struggling with addiction. Due to this he turned his Malibu, California home into The Perry House, a sober-living centre for men. "When I die, I'd like Friends to be listed behind helping people," he said at the time.
Although the centre closed back in 2015 due to financial reasons, Perry remained adamant that if someone ever asked him for help to quit drinking he would always say yes.
Gastrointestinal Perforation
Despite the height of his addiction and Perry having gotten the help he needed, in 2018 the star underwent gastrointestinal surgery. Although never publicly stating that the operation was alcohol-related, one study in 2017 by the Alcohol Research Current Reviews found that "in large amounts," alcohol "can overwhelm the gastrointestinal tract" with inflammation and "lead to damage both within the GI and in other organs."
A gastrointestinal perforation is a hole in the wall of part of the gastrointestinal tract and usually requires emergency surgery. It is often referred to as a ruptured bowel, but can refer to a tear in the throat, stomach, small intestine, or large intestine.
Symptoms of the condition can include:
Severe abdominal pain and tenderness
Chills
Fever
Nausea
Vomiting.
The charity Sepsis Alliance explains that perforation anywhere in the gastrointestinal tract is a "medical emergency" and surgery is usually performed to repair a perforation, particularly if it is in the bowel. Rarely, the doctor may prefer to take a wait-and-see approach, to see if the hole will repair itself.
Having not checked into rehab since 2001 and declaring that he has stayed sober since, Perry admitted in 2016 that he doesn't remember three years of Friends due to being "a little out of it," showing the detrimental effects that substance abuse can have.
For help and support contact Drinkline, a national alcohol helpline. You can call this free helpline in complete confidence on 0300 123 1110 (weekdays 9am to 8pm, weekends 11am to 4pm).
Source: Read Full Article