'I returned from my honeymoon to a leukaemia diagnosis'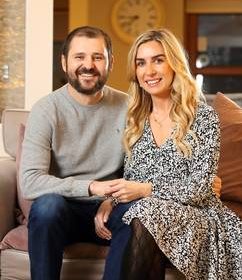 Ciaran Byrne and Denise Kenny Byrne were on their honeymoon in December 2018 when he began to realise that something might be wrong with his health. In the lead up to the long-anticipated trip, he had been feeling run down for some time. It felt like a winter flu.
"I was that busy with work, we just didn't see it," Ciaran says now. We're sitting in the kitchen of the couple's beautiful north Dublin home, which Ciaran built on a plot of land beside the family home he grew up in. His sister lives on the other side of them. Both Ciaran and Denise, who met through friends, come from large families, each is the second youngest of seven siblings.
By the time they went away, he had attended his doctor several times and been given antibiotics. On the honeymoon, he recalls being out of breath at times, fatigued. Experiencing a taste in his mouth he couldn't shake. When they arrived home he booked in his yearly medical check-up.
It's just over a year on from these events. We're here to discuss how the couple's new company, The Head Plan, and its first product, a journal, which launched over the holidays, came about. Given all that they had to contend with last year, it's a remarkable achievement.
Please log in or register with Independent.ie for free access to this article.
Log In
New to Independent.ie? Create an account
"It's a wellness brand," Denise, who has worked in PR and media for the last decade, explains of The Head Plan. "We want to bring out products that inspire, motivate, keep you focused and driven to achieve your goals."
The Head Plan journal is a guided journal. The layout is intended to engage; there are explanations about how to set goals, things are broken down by both timeline and topic.
It's Denise's vision – triggered by their experience of illness – with Ciaran, an entrepreneur who has run several companies and worked in software development since finishing college aged 21, contributing his own experience of getting a business up and running and e-commerce.
Two hours after he came home from that GP visit, the Mater hospital called. "The doctor said 'look we've detected an abnormality in your blood'." They were told to come into A & E immediately.
"I started crying a little bit in the car," Ciaran recalls now. On arrival at the Mater they were brought in to a private room. His consultant arrived shortly afterwards.
"He more or less got straight to the chase. 'Ciaran I'm very sorry to say you have acute myeloid leukaemia'." Ciaran asked to go home, to see his family. But his doctors wanted to start treatment immediately. "You're not going anywhere," his consultant, who he describes as excellent, told him. "You could be talking about life termination here."
Denise, who had recently started what she describes as her dream job, has been on carer's leave since that day. "You don't really have time to think," she says now. "You kind of go straight into 'OK, what do we do to get rid of this'."
The couple began contacting family who arrived immediately. Denise spent the first few nights sleeping on a chair, before a mattress was put on the floor. Ciaran's doctors gave him a brief reprieve, starting the treatment several days later to allow time to prepare for the eventuality of IVF. "Obviously we were newly married, so it kind of threw family planning totally off. We asked for a bit of time to go to the sperm bank. We were really lucky that we had the time to do that," Denise recalls. "At that moment in time, you're dealing with your own mortality, and this is thrown into the mix," Ciaran says now.
His treatment began with 10 days of chemotherapy, sometimes three times a day.
"The chemotherapy for leukaemia, but particularly for the lead into transplant, is particularly intense," Ciaran explains now.
At the time, he asked if there was any counsellor he could speak to, to help him cope. There wasn't, but he was directed to another patient undergoing the same treatment. When he arrived at the room, he recalls that patient, Brian, playing Sudoku, a Rocky poster up in his room.
"He was like 'here's the rules,'" Ciaran smiles. "It was like I'd been admitted to the Joy. 'You get up in the morning and make your bed; don't lie in it. Don't have the TV on until six'. When Brian was leaving to go get his transplant, he came in with his Rocky poster and stuck it up on my wall. I was really touched."
Throughout, Denise lived in the hospital with Ciaran. To help with the loneliness, she took to Instagram, talking about what they were going through, but also other stuff, to take her mind off things.
Through the social media app she found 10 other people who had been through something similar, and survived. "AML went for me from a death sentence, to absolutely treatable, curable," Ciaran says of the effect of his wife's research. "I respect the fact that it does absolutely take people's lives, but I'm going to focus on not being that person."
"We felt like we had thousands of people in our corner," Denise adds. "I don't think I could have got through last year without Instagram. And I know that sounds bizarre. I'll be really honest, I was shocked at how I managed things when Ciaran was in hospital. Because I've always been a bit anxious, and I'm someone who needs a bit of reassurance. But when Ciaran was diagnosed I knew I had a job to do, and Ciaran kind of became my project – I hope you don't mind me saying that," she says turning to him and they both smile.
She would research all the treatment he was having and reassure him that everything was as you would expect. Keep their families up to date. Make him get into the shower. Mind his mental wellbeing. Ciaran is, he says, awed by his wife's strength throughout it all.
It is only now, in the last few months, with Ciaran home since the summer and beginning to get better, that the reality of what happened is kicking in for Denise.
"I really only started to feel around September that it is affecting me more now. That's kind of why The Head Plan came about.
"Another project, and a project in an area that I need help with. I feel like I lost myself a little bit last year, because it wasn't about me at all." She sometimes wakes in the night "And you'd swear I'd been in a war; I wake with night terrors, shaking."
The couple had originally expected three rounds of chemotherapy. Unexpectedly, Ciaran was deemed ready for a stem cell transplant after two rounds, and a slot came up. Two of his brothers were viable donors. Going to St James's Hospital for the transplant, he was terrified.
Settling into his room, his friend and fellow patient Brian arrived in, there for a post transplant appointment. Brian seemed full of life, not at all beaten down and exhausted, as Ciaran had imagined would be the case post transplant. It made all the difference.
"The minute he left, I started getting upset, with joy. Thinking 'look at what he's done'." The actual transplant was unexpectedly non-invasive. The stem cells donated by his brother were put in through a line like a blood transfusion.
"It was very emotional," Denise recalls. "This was new life." Ciaran came home towards the end of May.
"A lot of the work happens after the transplant, physical and mental recovery. I'm the same person, but I am different," he says now.
"Sometimes that upsets me actually. People talk about the new you, but you know the old me wasn't that bad either. My hair hasn't fully grown back and it may not. People say 'oh that's such a shallow thing', but it was my old identity. I don't react lately but in the earlier days sometimes I'd walk past a mirror and catch a glimpse of myself and I'd cry. It would remind me. But the thing is I'm OK with that. I'm OK with the fact that I cry sometimes, because in the past I didn't."
He is still on medication to protect his immune system, and currently has graft versus host disease. They both work from home now, and laugh at the fact that people often ask them do they get on each other's nerves spending so much time in each other's company; clearly not. There's a saying 'same same, but different', Ciaran says, which makes a lot of sense to him now.
Family is what is important now; balance in life, work to provide, but time with Denise, and the hope of having children. For Denise, you get the sense of a woman who has found her purpose. She has gone to counselling to help process what happened. Sometimes, she says, she just gets really overwhelmed with emotion.
The Head Plan, is about reinforcing belief in yourself, reaffirming the good thoughts that you have. "I just want people to believe in themselves again. This has opened my eyes to a lot more positive things, like the things that really matter now. I think I'm stronger than I thought I was. I actually feel proud of myself and how I handled the year. I never thought I'd be able to handle something like that."
www.theheadplan.com
Source: Read Full Article