'Devastating cancer diagnosis means I must say goodbye to a husband and father'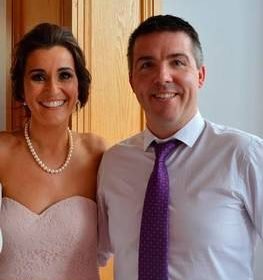 A heartbroken wife, who is keeping vigil at her dying husband's bedside, has spoken of how he was struck down in his prime by one of the most deadly cancers.
Karen Ferris, from Clonmel, Co Tipperary, is caring for her husband Martin who is in the final stage of his fight against pancreatic cancer in Marymount Hospital in Cork.
"While I now want peace for Martin, I am not at peace with how this disease has ravaged a healthy man's life so quickly and how it offered so little opportunities for positive outcomes all the way through."
Ms Ferris, who previously worked as a top public relations executive in Dublin, said she is hoping that speaking out will shine a light on the disease in Pancreatic Awareness Month. "Less than one in 10 people with pancreatic cancer will live five years beyond the diagnosis."
The couple, who are parents to three young children, had their world shattered in July 2017 when Martin, a garda, was diagnosed with the cancer at just 39 years of age.
He had developed jaundice and while his GP suspected hepatitis, a scan showed a mass blocking his liver.
"He was a fit, healthy man with few vices. The best hope is a complicated surgical procedure to remove part of the pancreas and the tumour.
"After nine months of very aggressive chemotherapy and then a course of radiotherapy to reduce the tumour, we got the good news that he was finally a candidate for this surgery – the Whipple.
"The tumour had shrunk away from the portal vein enough to enable the surgeon attempt the procedure. It was a seven-hour operation and all the potential risks and side effects were outlined to me including death on the operating table," she told the Irish Independent. However, she revealed it was devastating to get the call that they had found two tiny white spots in the liver during surgery and they had come back as cancerous.
"Two tiny white spots that made all the difference to our lives.
"It was even more devastating to be the person an hour later who was there at his side when he opened his eyes in recovery and gave me a thumbs up, only for me to have to shake my head with tears in my eyes and respond with a thumbs down."
She recalled how news of the spread of the cancer meant an "absolute crucifying blow" and "we had no hope". "It means five months later I sit in Marymount Hospice and prepare to say goodbye to my husband of 12 years and the father of my three children."
Despite the prognosis, life went on. There were "birthdays and milestones at school, and cups of coffee, and getting up for a game of golf on occasion or buying a new bike even if he did only get to ride it about three times".
He was filled with pride when after two rounds of interviews while on treatment, he was made Garda sergeant.
"You never give up hoping and I researched innovative treatments and worked with our oncologist to explore how to get him on a clinical trial."
He is one of around 560 people diagnosed with the uncommon cancer here annually, mostly in patients over 60.
Dr Ray McDermott, medical oncologist in Dublin, said there are currently no new drugs to treat pancreatic cancer.
But he said more patients whose cancer is localised and not spread are being cured, availing of treatment involving chemotherapy and radiotherapy prior to surgery.
Symptoms include unexplained weight loss and abdominal pain, as well as jaundice. There is also a risk with new onset diabetes.
Source: Read Full Article