Covid: Herd immunity may not be possible warns leading experts – is Covid here to stay?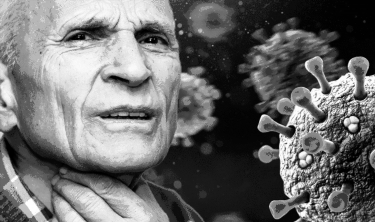 Covid-19: Sir Patrick Vallance warns 'virus hasn't gone away'
We use your sign-up to provide content in ways you've consented to and to improve our understanding of you. This may include adverts from us and 3rd parties based on our understanding. You can unsubscribe at any time. More info
COVID-19 has confounded expectations ever since it upended the world over two years ago. It has proven to be a highly sophisticated threat that has wrought devastation. Underestimating the threat has led to grave policy errors at various points. One proposal the UK Government backpedalled on after considerable pushback was based on the concept of "herd immunity".
The general hypothesis of herd immunity is that transmission of the virus will be blunted if it's let loose in society.
The virus will run its course as natural immunity becomes widespread, the hypothesis goes.
The concept proved highly contentious at the start of the pandemic because hospitals were filling up with patients and vaccines were nowhere to be seen.
Governments generally agreed that lockdowns had to be implemented to arrest the spread of the virus and save countless lives.
Now vaccines have been deployed at scale and millions of people have acquired natural levels of immunity, herd immunity has once again become a mooted topic.
Now leading experts have once again rejected the notion of herd immunity but not for the same reasons.
While widespread use of currently available public health interventions to prevent and control COVID-19 will enable resumption of most activities of daily life with minimal disruption, herd immunity may be unattainable, wrote leading health experts in The Journal of Infectious Diseases.
The conclusion is based on contributions from Anthony S. Fauci, M.D., director of the National Institute of Allergy and Infectious Diseases (NIAID), part of NIH, David M. Morens, M.D., senior scientific advisor to the NIAID director, and Gregory K. Folkers, chief of staff to the NIAID director.
DON'T MISS
High cholesterol: Growths on your skin is a sign [ADVICE]
Blythe Danner health: On her 'terrifying' osteoporosis [INSIGHT]
Covid symptoms: 'Super cold' similiar to Covid [ADVICE]
The authors explained how the scientific understanding of herd immunity and its applications to various diseases have evolved over time.
High levels of herd immunity have enabled the US to largely control polio and measles – two diseases caused by viruses that have not undergone significant evolution, they noted.
However, the authors pointed out, the benefits of achieving herd immunity thresholds have been less successful with respiratory viruses such as influenza, which continually mutate.
Doctor Fauci and his colleagues wrote that achieving classical herd immunity against SARS-CoV-2 is unlikely, due to a combination of factors that include features of the virus as well as current societal dynamics.
These include the virus' ability to continually mutate to new variants; asymptomatic virus transmission, which complicates public health control strategies; the inability of prior infection or vaccination to provide durable protection against reinfection; suboptimal vaccination coverage; and adherence to non-pharmacologic interventions.
However, the authors noted, controlling COVID-19 without major disruptions to society is now achievable because of widespread background immunity via prior infection or vaccination, booster shots, antiviral drugs, monoclonal antibody therapies and widely available diagnostic tests.
Research to develop pan-coronavirus vaccines, which could protect against multiple coronaviruses or at least multiple SARS-CoV-2 variants, remains crucial.
Living with Covid is best considered not as reaching a numerical threshold of immunity, but as optimising population protection without prohibitive restrictions on our daily lives, the authors concluded.
The medical opinion comes after Sir Professor Chris Whitty's chilling warning about a new variant.
Professor Whitty recently warned there is a "high chance" that a new Covid variant which is worse than Omicron will emerge in the next two years.
Speaking to the Local Government's Association public health conference, Prof Whitty said there was still a "long way to go" because the virus will continue to "throw surprises".
He also insisted the virus — which now poses a similar death threat as flu — will be with us "for the rest of our lives".
Source: Read Full Article