Confidence in Covid-19 vaccination keeps rising significantly in the U.S., but pockets of resistance remain, a survey shows.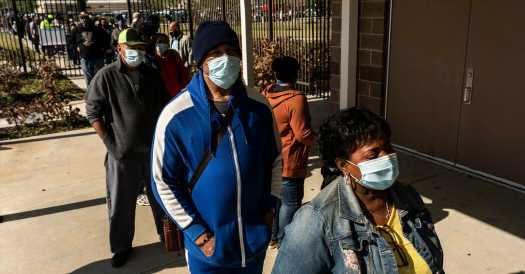 By Jan Hoffman
As eligibility for Covid-19 vaccination rapidly expands to all adults in many states over the next month, a new poll shows a continuing increase in the number of Americans, particularly Black adults, who want to get vaccinated. But it also found that vaccine skepticism remains stubbornly persistent, particularly among Republicans and white evangelical Christians, an issue that the Biden administration has flagged as an impediment to achieving herd immunity and a return to normal life.
By now, roughly 61 percent of adults have either received their first dose or are eager for one, up from 47 percent in January, according to the latest monthly survey by the Kaiser Family Foundation.
The shift was most striking among Black Americans, some of whom have previously expressed hesitancy but who have also had access issues. Since just February, 14 percent more Black adults said they wanted or had already gotten the vaccine. Over all, Black adults, who have also been on the receiving end of vigorous promotional campaigns by celebrities, local Black physicians, clergy members and public health officials, now want the vaccine in numbers almost comparable to other leading demographic groups: 55 percent, compared with 61 percent for Latinos and 64 percent for white people.
The Biden administration has made equity a focus of its pandemic response and has added mass vaccination sites in several underserved communities. In early March, a New York Times analysis of state-reported race and ethnicity information showed that the vaccination rate for Black people in the United States was half that of white people, and the gap for Hispanic people was even larger.
Dr. Reed Tuckson, a founder of the Black Coalition Against Covid, hailed the increasing acceptance rates but noted that practical problems still get in the way of uptake.
"The data, and our anecdotal feedback, are encouraging and further support the need for equitable distribution and easy-to-access vaccination sites that are led by trustworthy organizations," he said. "The system needs to support those choices by making the right thing to do the easy thing to do."
Source: Read Full Article