Cannabis Companies Push F.D.A. to Ease Rules on CBD Products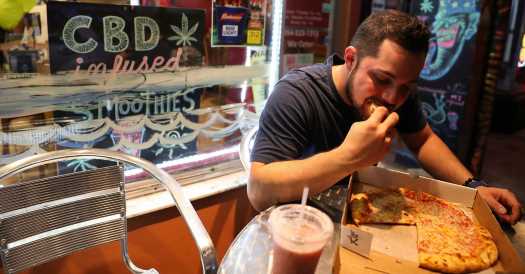 WASHINGTON — For weeks, the elite of the cannabis trade have been badgering the Food and Drug Administration for a coveted speaking slot on Friday at the agency's summit on cannabis-derived consumer goods.
Blue-chip lawyers were rejected. Scientists were spurned. The agency finally created a complex lottery system to whittle down the list from 400 applicants to just over 120. They were given between two and five minutes to make their case. Only some are permitted slides.
The U.S. Hemp Roundtable nabbed a spot, as did purveyors of cannabis-spiked soft drinks, gummy bears, dietary supplements, and something called Hempy Pet CBD Soft Chews, "specially formulated to help canines with pain, inflammation, anxiety and other age-related issues, and also to manage symptoms in dogs with cancer."
The F.D.A. has been skeptical of the burgeoning cannabis industry, but it is under increasing pressure from Congress to ease the path to market for cannabis-derived products. These products are different from medical marijuana, which is allowed by a growing number of states to treat severe pain, nausea and other ailments.
On Friday, cannabis companies — many of which are already selling their goods in stores and online — will try to convince the F.D.A. to let them do so legally. Currently, CBD is not allowed in dietary supplements or foods, but the F.D.A. tends to overlook these infractions.
The F.D.A. will not decide anything until later, but it could eventually end up ordering some products off the market.
"I don't think that CBD is doing anything approximating what people are purporting is its magic quality," said Dr. Scott Gottlieb, who stepped down as F.D.A. commissioner in April. "It's a real safety issue here. There are risks of accumulated effects. It's not a completely benign compound."
Cannabis is a plant family that includes hemp and marijuana, which have more than 80 biologically active chemical compounds. The most commonly known are tetrahydrocannabinol (THC), which is a psychoactive chemical, and cannabidiol (CBD), which does not produce the high that THC does.
For many years, the federal government deemed both plants to be controlled substances. The 2018 farm bill removed hemp and derivatives like CBD from the controlled substance list, so long as products containing them didn't have more than 0.3 percent THC. But the law preserved the F.D.A.'s authority to regulate cannabis compounds.
Oversight of cannabis is complex and crosses several federal agencies. The federal Drug Enforcement Administration issues registrations for growing and processing marijuana for medical research. The Department of Agriculture is developing a plan to regulate hemp, although the states may also do so if they meet certain criteria.
The F.D.A. regulates drugs, including those derived from marijuana, and it can also take enforcement action against companies selling foods or dietary supplements that have CBD or THC ingredients, which are considered drugs. But it has done so sparingly, only in cases where the companies have made what were considered outrageous health claims for their products, such as to cure cancer, Alzheimer's disease and other illnesses.
Friday's daylong hearing is a first step in what is likely to be a long process to define a legal path to market for CBD products that it considers safe.
"Congress had the expectation that CBD from hemp would be able to be put in the food supply when they passed the farm bill," Dr. Gottlieb said. "But it very explicitly preserved F.D.A.'s authority, so the F.D.A. has to create a framework for it to be contemplated as a component in food."
How they will do so has occupied many Washington lawyers for the past few months. A recent CBD seminar at the annual Food and Drug Law Institute conference was standing room only. Law firms have been giving webinars for their clients, trying to help them straddle the line between getting too far out in front of the regulations and landing in jail, or missing the chance to claim a strong place in the market.
"This is a new gold rush," said Marc Scheineson, a lawyer with Alston & Bird in Washington, D.C., who represents a company that makes synthetic pharmaceutical grade CBD. "The horse is so far out of the corral here that it will be interesting to see what F.D.A. decides to do — or can do at this point."
Mr. Scheineson suggested the F.D.A. might use its regulation of folic acid as a road map for CBD. Consumers can buy folic acid, a B vitamin, over the counter for some uses, but it must be prescribed by doctors at higher concentrations to prevent folic acid deficiency.
The agency could also require businesses to submit a petition demonstrating safety.
"There's a very limited understanding of what would be considered a safe amount of CBD to be consumed outside of a physician's care," said Justin Gover, chief executive of GW Pharmaceuticals, the parent company of Greenwich Biosciences, whose cannabis-based drug, Epidiolex, was approved last year to treat seizures associated with two rare forms of epilepsy. "There should be in our view a clear differentiation between F.D.A.-approved medicines derived from cannabis, like Epidiolex and any form of CBD taken without a physician's supervision."
Jonathan Miller, a lawyer for the U.S. Hemp Roundtable, a coalition of dozens of hemp companies, who is speaking at the meeting, plans to tell the F.D.A. that CBD is safe, and asks for it to be fully legalized as a dietary supplement and food additive.
"Our enemy is not the F.D.A.," Mr. Miller said. "Our enemies are CBD companies that make false claims or sell products that are bad."
Dr. Gottlieb took special issue with CBD for pets.
"Putting CBD into pet food is absurd," he said.
Sarah Sorscher, a deputy director with Center for Science in the Public Interest, said she was especially concerned about CBD products like gummy bears, which appeal to children. Ms. Sorscher, who missed the filing deadline to testify, also said she was concerned that consumers were turning to CBD products instead of approved therapies that could help them.
Eric Assaraf, an analyst who covers the industry for Cowen Washington Research Group, is enthusiastic about the sector, despite the uncertainties. In a late February report, he wrote that a conservative sales estimate for CBD in the U.S. could be $16 billion by 2025.
"I think we're going to go through a period of change in this sector, as the early entrants confront regulatory challenges from the F.D.A.," said Coleen Klasmeier, a partner at Sidley Austin's Washington office, who advises clients in the cannabis business. "And the more established, sophisticated players, as they conclude their assessments of the business opportunities and finish setting up their supply chains and compliance, will start to enter the market in a bigger way."
Source: Read Full Article