As Infections Rise, C.D.C. Urges Some Vaccinated Americans to Wear Masks Again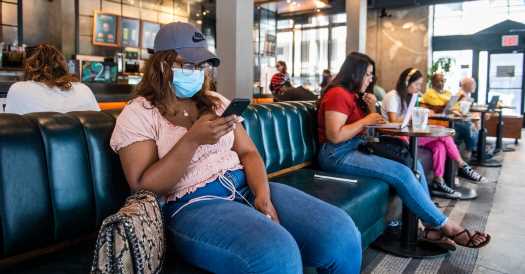 In communities with growing caseloads, vaccinated and unvaccinated people should return to masking in indoor public areas, health officials said.
By Apoorva Mandavilli
Revising a decision made just two months ago, the Centers for Disease Control and Prevention said on Tuesday that people vaccinated against the coronavirus should resume wearing masks in public indoor spaces in parts of the country where the virus is surging.
C.D.C. officials also recommended universal masking for teachers, staff, students and visitors in schools, regardless of vaccination status and community transmission of the virus. With additional precautions, schools nonetheless should return to in-person learning in the fall, according to agency officials.
The recommendations are another baleful twist in the course of America's pandemic, a war-weary concession that the virus is outstripping vaccination efforts. The agency's move follows rising case counts in states like Florida and Missouri, as well as growing reports of breakthrough infections of the more contagious Delta variant among people who are fully immunized.
"The Delta variant is showing every day its willingness to outsmart us," Dr. Rochelle Walensky, director of the C.D.C., said at a news briefing on Tuesday.
C.D.C. officials were persuaded by new scientific evidence showing that even vaccinated people may become infected and may carry the virus in great amounts, perhaps even similar to those in unvaccinated people, Dr. Walensky acknowledged at the news briefing.
Data from several states and other countries show that the variant behaves differently from previous versions of the coronavirus, she added: "This new science is worrisome and unfortunately warrants an update to our recommendation."
"This is not a decision we at C.D.C. have made lightly," Dr. Walensky added. "This weighs heavily on me." Americans are tired and frustrated, she said, and mental health challenges are on the rise.
Jen Psaki, the White House press secretary, said at a news conference on Tuesday that changing the masking guidance was crucial to "battling an ever-evolving virus," and that the Biden administration supported the effort.
"The virus is changing, we are dealing with a dynamic situation," said Dr. Anthony S. Fauci, the Biden administration's top pandemic adviser. The C.D.C. is correct to revisit its recommendations as the research evolves, he said.
"I don't think you can say that this is just flip-flopping back and forth," he added. "They're dealing with new information that the science is providing."
Source: Read Full Article